Professional Damp Proofing Solutions
Damp Proofing Solutions in Essex, East London, and North London
There are many types of damp that can affect your home or workplace in Essex, East London, or North London. Here at Property Care Services Ltd, we bring decades of combined experience to every damp proofing job we take on. Our small team of professional damp proofers work quickly to identify and eliminate the cause of your damp problems, letting you restore your property to its former condition.
Based in the Loughton, Essex our team covers the whole county and into East London and North London. This includes buildings in Buckhurst Hill, Chingford, Epping, Loughton, Ongar, Waltham Abbey, Wanstead, Woodford Green, and beyond.
Professional Damp Proofing Solutions in Essex
As your local water proofing experts, we have much to offer our customers across Essex, East London, and North London. Here is a few of our more popular services…
Before we can eliminate the damp in your home, we need to know what it is we are up against.
Our team of experienced damp proofing professionals will inspect the areas affected by damp for signs of moisture, condensation, mould, and rot. This initial assessment allows us to properly diagnose the problem and identify the cause.
Rising damp is caused by groundwater being drawn up in to timber and brickwork through capillary action.
Commonly found in ground floor rooms, it leaves a distinctive tide mark on walls and wallpaper. The treatment for this is normally a Damp Proof Course (DPC) injection. This creates an impermeable barrier that the water can no longer pass through.
Penetrating damp is caused when water is able to enter your property from an outside source.
This is most often due to cracks in the render or leaks in the wall, though it can also happen if there is a break in your existing DPC. We identify and repair the source of the problem, preventing further damp damage.
Structural damp normally applies to areas of your property that lie below the water table, such as basements, cellars, and underground garages.
Moisture from the surrounding earth leaches into the brickwork, causing serious damp issues. We apply various structural waterproofing techniques to create a barrier between the walls and the room itself, eliminating the damp problem.
Most houses experience condensation at one time or another, if only when boiling a kettle or running a tumble dryer.
If the property is poorly ventilated, condensation can settle on walls and ceilings, leading to surface damp. At Property Care Services Ltd, we apply specialist paints to the walls that offer a level of condensation control to our customers.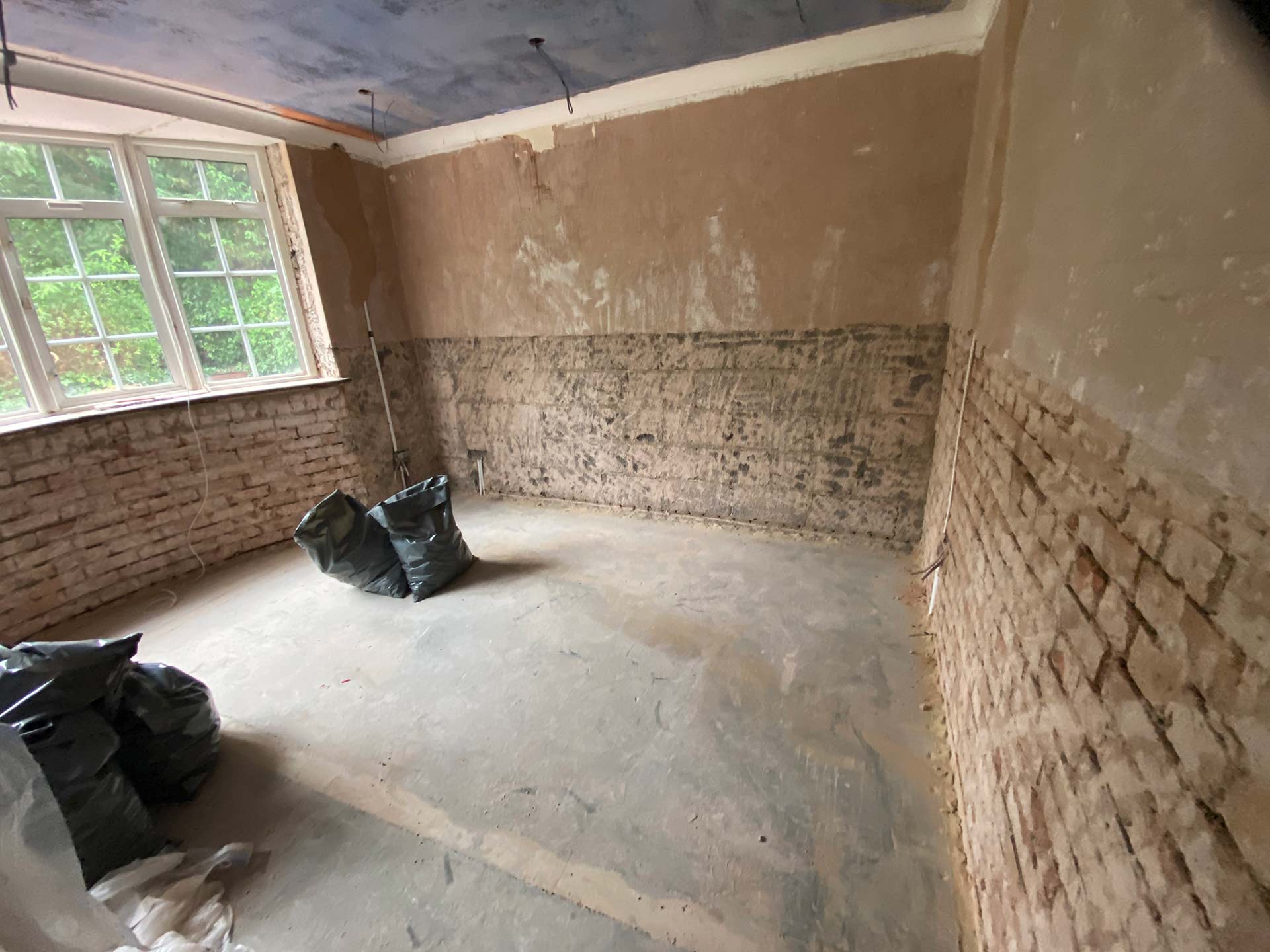 Why Choose Property Care Services Ltd?
There are plenty of reasons to choose us for your damp proofing solutions in Essex, East London, and North London. Here is just a few of them, based on feedback from our existing customers…
As a member of the Federation of Master Builders, you can rely on Property Care Services Ltd to deliver a first-rate service. In the 30+ years we have been trading, we have earned a reputation for excellence among our customers across the South East. To see what they say about us, visit our Reviews page elsewhere on this site.
We have been providing damp proofing solutions to domestic customers and commercial clients across the South East for more than thirty years, making us one of the region's best-established damp proofing contractors. Our extensive experience in the field is your guarantee of quality workmanship and unbeatable customer service on every job we take on.
Property Care Services Ltd is based in Loughton, Essex. From here, we cover the whole of county and into the surrounding areas, including both North London and East London. Our team of damp proofing professionals arrive on time, every time, including for jobs as far afield as Buckhurst Hill, Chingford, Epping, Loughton, Ongar, Waltham Abbey, Wanstead, Woodford Green, and beyond.
For damp proofing solutions you can rely on in Essex, East London, and North London, contact Property Care Services Ltd today. Call us on 0208 506 2233 for a free, no-obligation quote.